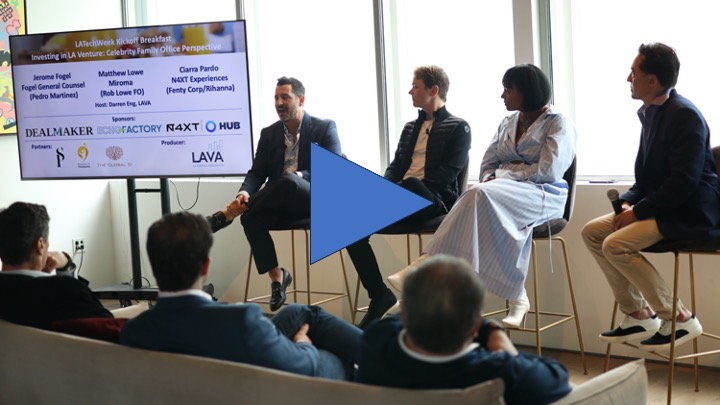 ---
LAVA's LA TechWeek Monday Kickoff Breakfast was a HUGE SUCCESS!
We had an all-new panel of celebrity business managers, advisors, & consiglieres to discuss how they and their clients approach investing in venture – particularly venture in LA. Last year we heard from reps for Chainsmokers, Tom Brady, Pau Gasol and Reggie Bush.
This year we had Matthew Lowe (head of Rob Lowe's family office), Ciarra Pardo (a cofounder of Fenti Corp with Rihanna), and Jerome Fogel (athlete consigliere including Pedro Martinez).
Registration was by approval or invitation only. Attendee list provided below.
LAST YEAR 2022
Audience Stats
Total Audience: 96
Family offices: 45
VCs: 25
LPs: 4
Industry Partners: 22
THIS YEAR 2023
Audience Stats
Total Audience: 140
Family offices: 50
VCs: 40
LPs: many
Celebrities/Directors/Producers/Athletes: 18
Industry Partners: 10
Spring Place founders: 22
Event Details
Location: Spring Place Beverly Hills
Images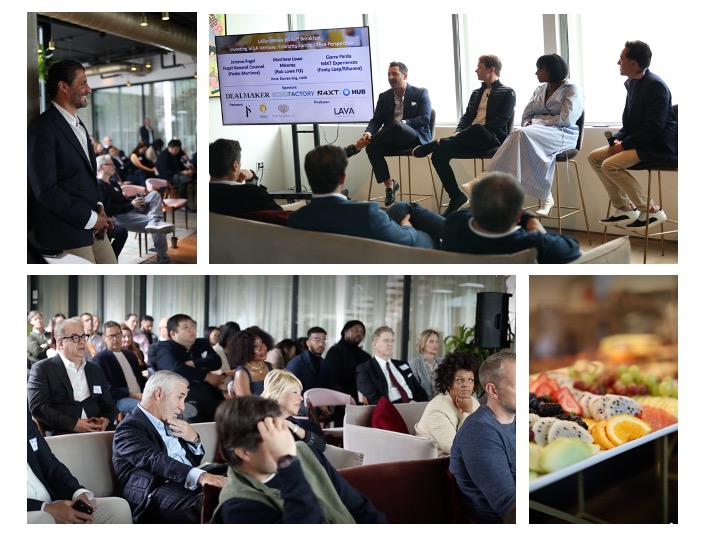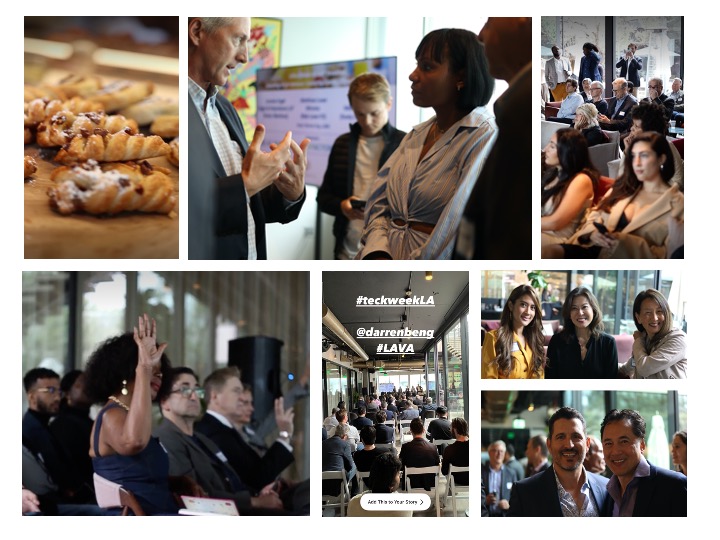 ATTENDEES
| | | |
| --- | --- | --- |
| FIRST NAME | LAST NAME | COMPANY NAME |
| | | |
| Greg | Lebsack | 212 Tech Ventures |
| Scott | Stanford | ACME Capital |
| Alejandro | Guerrero | Act One Ventures |
| Alena | Solonina | Aegon Climate Capital |
| Aaron | Ishikawa | Aero X Ventures |
| Brendan | Bell | Aligned Climate Capital |
| Curtis | Spears | Andes Capital |
| Ryan | Sommerville | Antler VC |
| Dennis | Maliani | Apotheka Systems Inc. |
| Matthew J. | Nordgren | Arcadian Capital |
| KEVIN | CHEN | ARTS DISTRICT DEVELOPMENT |
| Chun-Yen | Chen | Asian Pacific Community Fund |
| Javier | Martinez | Asociacion de Empresarios Mexicanos |
| Kevin | Morris | Atlas Rd |
| RONALD | MACLEOD | Baciu Family Capital & Management |
| Baron | Davis | Baron Davis Enterprises |
| Jay | Bloom | Battleborn Investments; Bloom Family Office |
| Roberto | Medrano | Beach View Capital |
| Michael | Torchia | Beverly Hills Consierge Service |
| Giuseppe | Sacco | BitBrand |
| Sean | Bloom | Bloom Family Office |
| Vien | Le | Cabrera Capital Markets |
| Todd | Tzeng | Caerus Ventures |
| Anita | Sokolsky | CBIZ MHM |
| Eric | Gold | Chargers NFL |
| Randolph | Kim | Chenel Capital |
| William | Elkus | Clearstone Venture Partners |
| Rick | Smith | Crosscut Ventures |
| Stuart | Halperin | CurtCo Media |
| Michael | Wherry | Dealmaker |
| Angel | Chen | Deutsche Bank |
| Jennifer | Lee | Double Happiness Entertainment |
| Juan | Bruce | DSCVR |
| Lorenzo | Martone | Echo-Factory |
| Mike | Schaffer | Echo-Factory |
| Paul | Chun | Eldred Advisors |
| Elliott | Schwartz | EmptyLegMarket |
| Laurel | Mintz | Fabric VC |
| Frederic | Golchan | FGMEDIA |
| Charlie | Woo | Fidelity Bridge Holdings |
| Tatijana | Janko | Fjor |
| Luca | Taddito | Florac |
| Jerome | Fogel | Fogel & Potamianos LLP |
| William | Ward | Fourward |
| Michael | Mizrahi | Fourward Ventures |
| Roy | Dequina | GENERA Fund |
| Brandon Scott | Barney | Giant Help |
| Oscar | Wong | Gold House Ventures |
| Bobby | Jones | Growing Up Compton, LLC. |
| Kelly | Strommer | Guild Capital |
| Eva | Smith | High Tech Solutions |
| Claudia | Lin | Hub International Insurance Services, Inc. |
| Michael | Weintraub | ICG Advisors |
| Heath | Goldman | Icon Wealth & Legacy |
| Sean | Cunningham | Integrated Capital Management |
| Michael | McClune | International Business Accelerator |
| Todd | Daum | Investor |
| James | Reynolds | James Reynolds Law Firm |
| Sandra | Choi | JHOG Design & Development |
| Guy | Maisnik | JMBM LLP |
| lena | xiao | Kollectin |
| Nadia | Lee | Kollectin |
| Tom | Fanning | LA Studio Group |
| Tom | Soto | Latimer Partners, LLC Family Office |
| Jenna | Gestetner | LAVA |
| Raphael John | Oriel | Los Angeles Capital Partners LLC |
| Kathleen | Tepley | Los Angeles Consulting Group |
| Christine | Low | Low Family Office |
| Charlotte | Lupert | Lupert Family Office |
| Ruming | Liu | MagStone Law, LLP |
| Lorenzo | Doumani | Majestic Investment Group |
| Chioma May | Odiakosa | May Odiakosa |
| Matthew | Lowe | Miroma (Panelist) |
| Chirag | Sagar | Mission Matters |
| Marc | Alexander | Motusi Corporation |
| Joy | Downer | Musician |
| Taylor | Rothchild | Mythic Brands |
| Qiana | Patterson | Nayah |
| James | Mumma | Nomad Ventures |
| Raphael | Leopold | Nomadic Ventures |
| Ruvin | Orbach | Orbach Family Office/Bridle Path Investments |
| William | Scriven | Overlay Capital |
| Jeffrey | Travis | Positron |
| RJ | Jain | Price.com |
| Manny | Ruiz | Primary Digital |
| Mark | Linao | Progression Fund |
| Jesrina | Arshad | PurelyB |
| Anton | Reut | Qubits Ventures |
| Nardo | Manaloto | Qubits Ventures |
| Roger | DaSilva | Realm Startup Advisory |
| Joe | Tolzman | REITIUM |
| Thomas | Park | REITIUM |
| Andrew | Hoffmann | Rock Island LLC |
| Gregory | Guggenheim | Seahorse Express |
| Joey | Guggenheim | Seahorse Express |
| Chimereze | Oji | ShireCloud |
| Ryan | Groves | Singleton Foundation |
| Jason | Pelsey | Sola Gracia Productions |
| Joseph | Greco | Solo Pictures, LLC |
| May | Odiakosa | Star Beer |
| Alfred | Chu | Starlite VC |
| Garrett | Gilbertson | SUM Ventures |
| Keiko | Nakashima | Sunny Blue |
| David | Li | SVRN |
| Arjun | Metre | Tennor Holding |
| Leo | Gestetner | Thankz |
| Richard | Barry | The Barry Family Office / Quant Ventures |
| Jack | Davies | The Personalized Beauty Co dba Mxt |
| Stacey | Bae | Todd B. Spiegel Architects |
| Todd | Spiegel | Todd B. Spiegel Architects |
| Toni | Wang | Toni Wang Productions |
| Jonathan | Hung | Trousdale Ventures |
| Rachel | Hsu | Unix Industries, Inc. |
| Lee | Bailey | Us renewables |
| Sam | Wick | UTA Ventures |
| Angela | Liou | Vela |
| Jay | Goss | Wavemaker Three-Sixty Health |
| Jeffrey | Treut | Whittier Trust |
| Mike | Strochia | |
| Silvie | Schain | |
| Carmen | Palafox | 2045 Ventures |
| Asha | Munroe | AEQ Capital |
| Delaney | Pouch | AMA Investments |
| Simon | King | Bloom Family Office |
| Conor | Shalloe | Cliffwater LLC. |
| Brie | Blumenthal | CVS Health Ventures |
| Brom | Rector | Empath Ventures |
| Ryan | Vallan | Encant |
| Scott | Dacko | Encant |
| Jason | Reese | Fermont Capital (Reese Family Office) |
| Falon | Fatemi | Fireside |
| Aemish | Shah | General Global Capital |
| David | Park | Kairos Ventures |
| Chris | Arthur | LA Studio Group |
| Drew | Logan | MYRLIN LLC |
| Henry | Brandon | Nile Capital Group |
| Rachel | Sachs | Springdale Ventures |
| Susie | Trujillo | STRUC |
| chelsea | chrisman | sway ventures |
| JAMES | DAY | The Alpha Play, Inc. |
| Bridget | Kilroy | The Global 51 |
| Maurice | Ng | Tings Capital |
| TYMED | C | TYMEinc |
| Shahan | Ohanessian | VenHub |
| Cole | Zucker | Zuvi Investments |